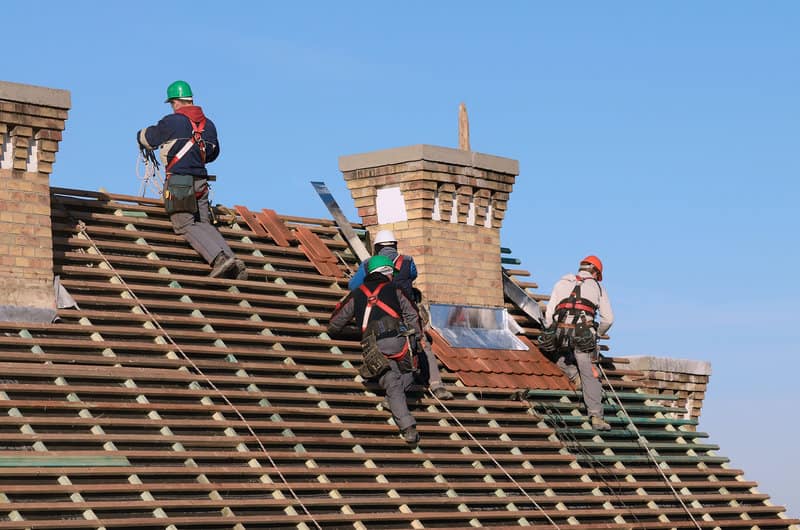 Are you about to install a new roof on your home?
Believe it or not, roof construction is a complex task that involves more than just picking out the look and materials of your new roof. It's critical to hire roofing services so that you can be certain your roof is built with expert hands.
Roof Construction
Before you bring on a roofing team, make sure you understand the basics of roof construction so that you know you're working with the right people.
Read on to learn about roof construction 101 so that you can have peace of mind when your roof goes up.
A Roof Must Be Watertight
Every roof is different. Roof construction, material, shape, and style will all depend on the type of house the roof is designed for.
Nonetheless, every roof will be designed with the specific purpose of keeping your home safe and dry. This is why roofs are created generally to be sloping, and to be crafted from durable and water-resistant materials.
Construction Depends Upon Regulations
Depending on where you live, you'll have to construct your roof keeping building regulations in mind. You may be limited in what materials you can choose for your roof, how high it can be, and what fasteners you can use.
If you are building a new home, you'll likely experience fewer regulations. Most building regulations are strictest with older homes that could present safety issues.
Your roofing services team will be able to advise you on building regulations so that you can be sure your roof fits the requirements.
A New Roof Requires Consultations
If you are building a new roof on your new home, you'll be spending a lot of time chatting with your roofing services company to ensure that everything goes smoothly. If you've hired out a contractor, you'll be able to sit in on planning sessions.
You'll determine roofing materials and construction periods during these consultations. These meetings present a great opportunity for you to ask questions about how the roof will be built and when you can be on site for its construction.
A Roof is Framed First
When a roof is constructed, a roofing services team will put up the framing for the roof first. These are wooden supports that will bear the weight of the roof deck and its surface.
There are two types of frames: truss and stick.
Stick frames are made up of individual rafters that piece together into the ridgeline of the roof.
Trusses are triangular and made beforehand.
The type of frame chosen will depend upon the style and slope of the roof.
Then Comes the Roof Deck
After the frame goes up, the roof deck will be installed.
A roof deck goes between the frame of the roof and its surface.
Think of a sandwich of sorts. The roof deck is constructed of wooden sheathing and a fibrous roofing felt that protects the sheathing and framing from any water that could pass through the roof's surface.
Shingles Are Laid Last
Your roof's surface will be composed of a durable and water-resistant material, often shingles. Some homeowners, however, opt for alternative roofing surfaces, such as metal.
You'll be able to choose the material and style of your roof surface based off of budget and aesthetics.
Flashings and Gutters Work Together
Flashings and gutters will work together to rapidly remove water from your roof.
Flashing are metal pieces that operate primarily as water deflectors. They can be found wherever your roof has angles and where water can gather: along the edges of the roof and in its crevices.
Gutters siphon rain and snow water away from your roof and home and into the ground.
The Right Roof Keeps Future Maintenance in Mind
Proper roof construction means planning for the future. Every material is chosen with the intent of keeping you and your family safe and shielded from the elements.
The right roofing services will build your roof carefully, keeping future maintenance in mind. They will also advise you about caring for your roof in the future to minimize repairs and replacement.
Your Roofing Service Will Prioritize Safety
A well-constructed roof is one that is constructed safely.
Professional roofing services will make sure your new roof goes up in as safe a manner as possible. Workers will be licensed and trained, and all equipment will be used mindfully.
If you have any questions about worker safety and insurance, be sure to ask your on-site contact.
Roof Construction Is Time Intensive
A roof can't go up in a day, unfortunately. Because every roof involves so many complex components, building a new roof may take some time.
This is why it is so important to hire professional roofing services to build your roof. Your roofing company will give special attention to all of these components of your roof throughout its construction and ensure it is built safely and efficiently.
Roof Construction Basics
Installing a roof is a complex and involved task that requires years of expertise. When you hire roofers, it's important to understand exactly what goes into roof construction. This will help you hire the right people and also make sure your roof is installed properly.
It's important to understand the basic components of a standard roof, including its frame, roof deck, and surface. Your roof's design and materials will all be chosen with the intent of keeping your home watertight. A roof is constructed from the ceiling up, beginning with its frame and ending with its surfaces.
At the end of the day, you have a say in how your roof is built and what it is made of. This is why it is so important to hire professional services when you construct your roof.
Who We Are
At Pacific Coast Roofing, we can bring you the peace of mind you need during any roof construction with our expert roofing services. We install new roofs, replace existing ones, and take care of annual roof maintenance and cleaning.
Over ninety percent of our customers are referrals — for a good reason.
Reach out to us today for a free quote so you can have a new roof on your new home sooner rather than later!