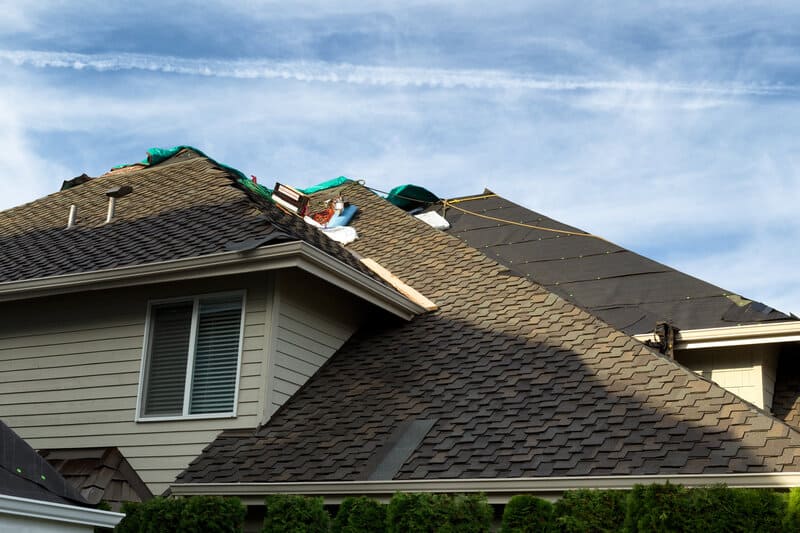 The roof underlayment is one of the most important features in your home or business's roofing system. The underlayment is a barrier material installed directly on top of the roof deck. It works with all of the other roofing system materials, serving as a secondary layer of protection from rain and moisture, and also provides another layer of insulation. 
Any weakness in the roof's underlayment directly results in future leaks or gradual moisture infiltration that compromises your home's structural integrity. Also, a poorly maintained or outdated roof eventually results in a home prone to mold and mildew infestations, which can occur deep in the interior walls and spaces, doing damage where nobody is watching.
Roof Underlayment Options: Consumer Education = Wise Choices
Even though your roofing contractor is the "expert," we appreciate it when our customers are informed. Educated consumers make wiser choices, and that's what you want to do when investing in a new roofing system that costs thousands of dollars.
Learning about roof underlayment choices will help you make more informed decisions as you work through roofing material options and estimates for your new roof.
3 Types Of Roof Underlayment
There are three types of roof underlayment, each with its pros and cons. 
Asphalt-saturated felt

Self-adhered

Synthetic
We'll provide a general overview of each one. With that information, you'll be able to decide what makes the most sense for your Bay Area roof.
Asphalt saturated felt
Traditionally, steep-sloped residential roofs were built using asphalt-saturated felt. Now, newer underlayment innovations are taking over that slot. Asphalt-saturated felt is also called tar paper or felt paper. The felt substrate is labeled organic if it's made from cellulose. Otherwise, it's made from a fiberglass substrate. The felt paper is then soaked in asphalt until it is completely saturated. Asphalt-saturated felt is water-resistant, but it's not waterproof. 
It is offered in two different thicknesses: 15 pounds (No. 15 felt) and 30 pounds (No. 30 felt). In the roofing world, we never use No. 15 pound felt as it's best used on wall applications. The 30-pound option is thicker, stiffer, and more durable. Not only is it less prone to damage during installation or future roof repairs, but it also offers more water resistance if exposed to the elements due to roof damage. 
In most cases, we fasten felt to the roof deck using staples or plastic caps, which offer more wind resistance than staples. In high-wind areas, we offer the option of adding plastic wind strips to the edge, which helps prevent edges from lifting during storms or high-wind events.
If and when asphalt-saturated felt fails, it is typically due to poor quality materials, general loss of active compounds over its lifetime, direct UV sun exposure, or installation damage.
Self-adhered underlayment
This is one of the most commonly used materials on the market. Self-adhering underlayment is made with high concentrations of asphalt and rubber polymers. Together, these form a strong water-resistant barrier. The sticky back creates a solid connection between the roof deck and underlayment, optimizing waterproofing qualities.
It is specifically designed to increase water protection around the most common places where roofs leak, such as:
Roof valleys

Vents

Chimneys

Eaves

Skylights or other penetrations
The self-adhering underlayment's granulated texture is another reason Bay Area roofing contractors like this produce. While the texture is ultimately designed to increase water resistance, it also makes for a more non-slip surface, making it safer and easier to walk on when we're building or repairing a roof.
Synthetic underlayment
The newest roof underlayment on the market, synthetic underlayment is also a popular choice for residential and commercial building owners. Each manufacturer has its own "recipe," but all of them involve some mixture of varying polymers that are woven together in multiple layers.
Although it costs a little more than its felt paper or self-adhering options, there are several benefits to investing a bit more – all of which come back to you by way of lifetime roofing repair/replacement costs:
It's the toughest, most tear-resistant, and most durable option. 

It repels water, making it the most water-proof option.

Because it's lighter in weight, rolls contain more materials, reducing labor time due to reduced ladder trips.

Like self-adhering underlayment, it has a secure walking surface.

It's designed with clearly marked lines to assist in underlayment during installation (less risk of incorrect installation).
Overall, we recommend most clients select self-adhered or synthetic underlayments if they want a long-lasting and high-quality roof underlayment they can trust. 
Ready To Replace Your Bay Area Roof?
The team at Pacific Coast Roofing & Restoration has attentively maintained, repaired, and replaced Bay Area roofs for decades. Contact us online, or give us a call at (510) 912-5454, to schedule a consultation, and let's talk about roofing underlayment and which type is best for you.