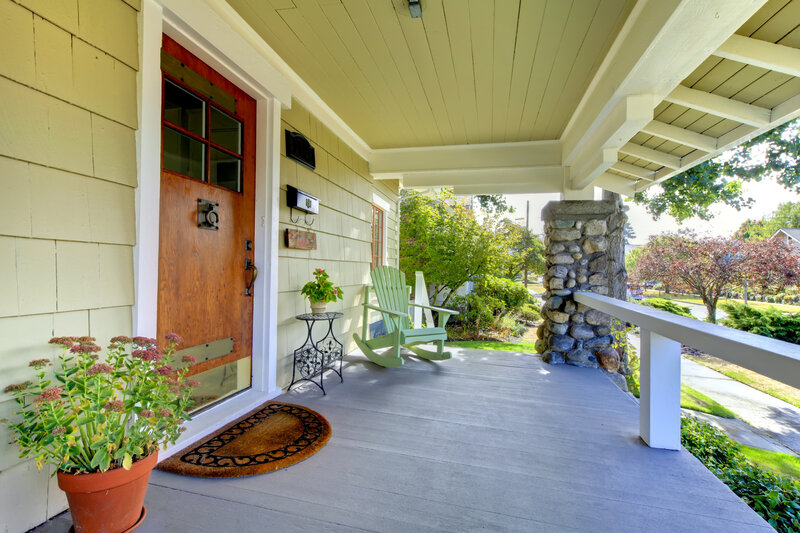 This time of year, early spring, is always a reminder of how beneficial adding a roof to your porch can be for Bay Area homeowners. While the days may still be cooler or drizzly, the addition of a roof over your porch means an automatic expansion of outdoor living space with less attention to precipitation or the outside temperatures. 
Multiple Benefits Of Adding A Roof To Your Porch Before Summer
Here are six ways homeowners benefit by adding a roof to your porch into the home and landscape equation. 
Cleaner and more usable
The spring and fall are notoriously windy months in the Bay Area, which means your exposed decks and patios are prone to anything the drops or flies in. The accumulation of leaves, twigs, branches, bird droppings, etc., can transform your gorgeous porch into a mess.  
As a result, all that muck, debris, and accumulated dirt, and rotting leaves can prevent you from going out and using your porch space because it requires a deep clean each and every time.  
Adding a new roof porch with ample overhang makes an exponential difference. Instead of a full rake, sweep, and wipe down, before you or a friend can even sit down with a cup of coffee – a quick spruce up is all that is required on a regularly-used covered porch to enjoy the outdoor space. 
A weatherproof outdoor space
The nordic cultures are known for their attitudes of "there is no such thing as bad weather, only bad clothing." Even so, when it's raining outside, it's not really pleasant to sit outside on the porch donning full rain gear and an umbrella. Adding a roof to your porch means you can enjoy the porch rain or shine without the risk of getting wet.  
In cooler temperatures, the addition of a regulation fire pit, outdoor fireplace, or safe gas heaters makes it a cozy space to enjoy Mother Nature in all of her many moods and expressions. The key is to include all of the water drainage systems necessary (gutters, downspouts, etc.) to keep water draining away from the roof, walkways, and foundation, and to optimize roofing materials to reflect UV rays (solar heat) up and away from the roof. 
Sun protection
On the flip side, a sunny day in the Bay Area can get downright hot and uncomfortable if a porch or patio is exposed to full or direct sun. Umbrellas do a good job but their efficiency is limited and umbrellas must be awkwardly readjusted as the sun moves. 
Adding a roof to your porch or patio provides permanent sun protection. If you or members of your household love to bask in the sun, we can design a porch roof that accommodates the best of both worlds so you have options.  
Increased energy efficiency via decreased cooling
You would be amazed at what a difference well-designed porch roofs make in terms of reducing solar heat gain and increasing energy efficiency. Roof overhangs, awnings, and deciduous shade trees are all part of passive solar home design. Your porch roof inherently blocks the sun from the porch, but it also blocks direct sunlight from penetrating slider doors and windows on that length of the exterior wall. 
In some cases, your summer shade created by your porch roof might mean the difference between opening up the windows on that side of the house and forgoing air conditioning all together. In other cases, the reduced solar heat gain reduces the amount of time your AC spends cooling the home, and notably cuts down on energy spending. 
Read our Quick Guide to Energy Efficient Roofing Materials to learn more. 
Greater lifetime savings
In the world of licensed contractors, we're constantly educating clients about the difference between first-time and lifetime costs. For example, those savvy and stylish shade sail or temporary porch covers may seem more affordable in theory, but it's something that will need to be replaced over and over again. It may also need to be put up and taken down seasonally. Sun fading is an option as are drainage issues during the rainy season. 
The smaller, flatter roof system required for a porch is a reasonable investment that will last a lifetime. The additional square footage should add nothing to a very minimal increase in your annual roof inspection and maintenance costs. Then there is the potential for reduced energy spending. Ultimately, your porch roof is equal to or less expensive over time than the costs of temporary options.
Increase your home's value
Adding a permanent porch roof to your home can increase its value. When the porch is well-designed and integrated to complement your home's architectural style, it makes the house look larger and more appealing to future buyers. This is especially true in this new era of "work from home" lifestyles where livable, usable, outdoor spaces have become more necessary to our mental and emotional wellbeing than ever before.
Would you like to learn more about the potential cost and options for adding a roof to your porch? Schedule a consultation with Pacific Coast Roofing. We've provided high-quality, trusted, and competitively priced roofing services to Bay Area homeowners for more than 20 years.