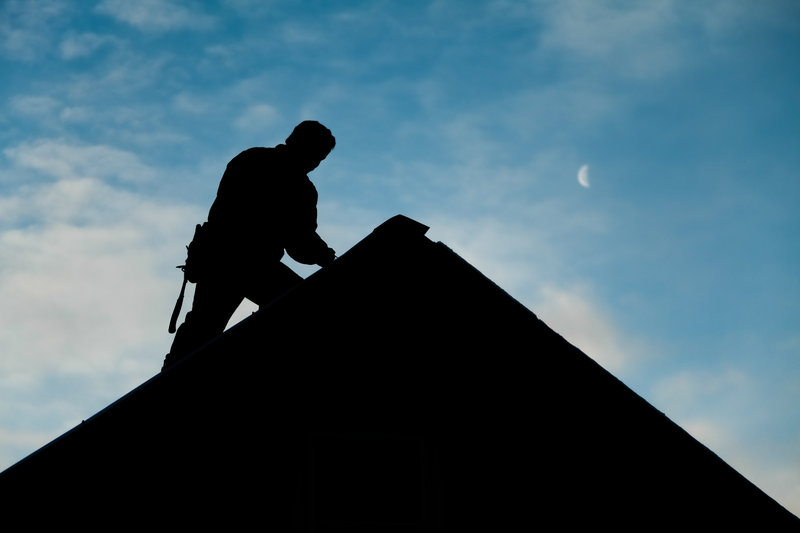 When you need a roof repair or replacement, spending some time interviewing prospective roofers is the only way to know you've hired the most qualified company for the job.  
By having a list of industry-relevant questions prepared ahead of time, you can evaluate their answers line by line. Plus, your roof can only perform as per the manufacturer's design if experienced professionals install it. 
5 Questions to Ask Before Hiring a Roofing Contractor
Our guess is that after getting estimates from three or five different roofing contractors in your area and asking the following questions, one or two will automatically bump up to the top of your list. 
Are you licensed, bonded, and insured? And, can you provide proof?
This one's a deal–breaker. Never have anyone repair or replace any roof unless they can show proof that they hold a current contractor's license, have current liability and Workers' Compensation insurance and are bonded. 
Their contractor's license number should be visible on their website, business card, letterhead or truck decals. For example, our California contractor's license number is 1002352. You can verify any CA contractor's license via the California State Contractor's Licensing Board website, or through your local building department.  
Prospective roofing contractors should also be able to quickly hand over paper proof of their insurance policies and bonds, and without complaint or acting as if you're putting them out. 
Do you facilitate insurance claims processes?
If your roof is being repaired or replaced as the result of storm damage or a natural disaster, odds are you're working with homeowners or commercial insurance policies for partial or full reimbursement. 
There is a very specific protocol for that type of work, and it's essential to play by the rules to get the maximum claims benefits. In addition to choosing a roofing contractor approved by the insurance carrier, we recommend asking if the contractor is willing to facilitate the claims process, which can streamline the process and expedite your payout. 
Can you explain why your estimate is notably higher/lower than the others?
If you notice a discrepancy between a particular contractor's estimate, have them explain why. It can be tempting to go with one of the lowest bidders, but that often results in hidden costs that weren't outlined in their original bid (a shoddy contractor's trick to try to get your business). 
Similarly, you may find that a contractor who bid on the higher end can't logically or legitimately justify his elevated cost estimate when compared with your other options – another sign you were being taken advantage of.  
On the other hand, desperate contractors may try to patch a roof repair together to come in lower in the bidding process and get much-needed work, while reliable and experienced contractors may come in higher because they've wisely advised replacing the roof altogether. Quality roofers refuse to repair any roof that requires replacement so they can stand by their workmanship and preserve their reputation. (Note: If your roof is on the 15-years old or older side, replacement is probably the way to go). 
Our recommendation is to ask for itemized estimates so you can compare apples-to-apples in terms of materials and labor costs, a practice worth honing for any contractor's estimates you request over the years.  
Can you tell me about your safety practices?
Roofing is a dangerous job. Roofs are up high, can be slippery, and have all kinds of different slopes, penetrations, or nooks and crannies that create trip/fall hazards. Your roofing contractor should have an OSHA-standard, safety plan that he can show you via printouts or a safety binder. 
At the very least, he should be able to outline the steps taken to keep your house, property, occupants, and his employees 100% safe throughout every step of the removal of old roofing materials and the repair/replacement process.  
Read our post, Your Ultimate Guide to Roofing Safety, to know what to listen for in the answer. 
Can I speak with some of your most recent clients for references?
So few people actually take the time to speak with recent customers and find out about their prospective roofers. This is a shame because actual customers are your most excellent, objective resources for learning more about the contractors: 
Timeliness in communications and ability to stick to the proposed work calendar

 

Employee manners and work habits

 

Cleanliness/safety of the job site

 

Costs and whether they were honest/accurate

 
The customer's overall satisfaction

 
DO call, recent clients, preferably those with a roofing project that was similar I scope as your own to learn more about potential roofers.
You've Got Questions, We've Got Answers
If you're ready to work with a licensed, experienced and dependable roofer here in the Bay Area, please contact us here at Pacific Coast Roofing Service and request one of our free, on-site estimates. We'd love to show you why we're the right roofing contractor for the job.