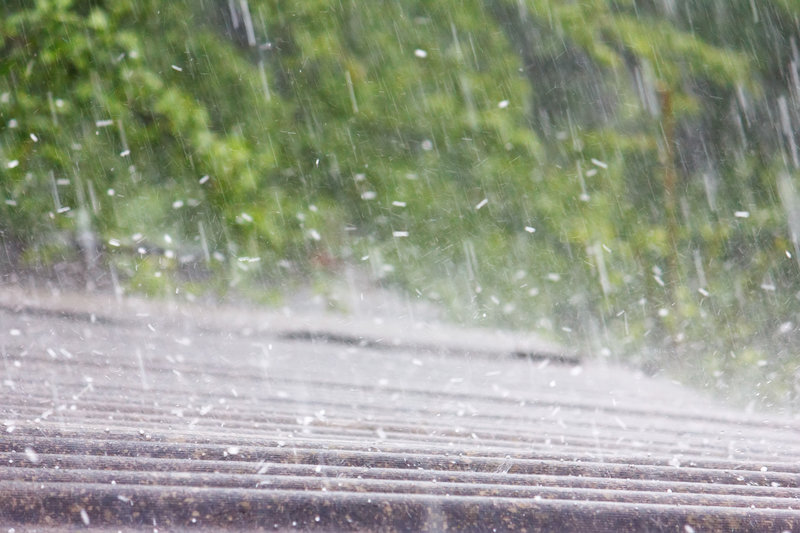 There are two rules when it comes to protecting your commercial roof from hail damage. The first is to prevent hail damage in the first place, and the second is to inspect and repair hail damage immediately to avoid more costly repairs.
Steps To Prevent Hail Damage On Commercial Roofs
A secure, healthy, and well-maintained roof shouldn't experience dramatic damage after a hail storm. Therefore, hail damage prevention is your first line of defense.
Hire licensed, experienced roofing contractors
Always hire licensed, skilled roofing contractors to perform any roof inspections, repairs, and replacements. This way, you know their work is top-quality. Also, proof you've worked with professional roofing contractors expedites any insurance claims you need to run through your insurance carrier over the years.
Install a roof suited for your building's climate and location
Experienced and licensed roofing contractors install roofs designed to handle the elements and sun exposure wherever their client's business is located. Some buildings are at higher risk than others for hail damage based on their exposure to higher winds or colder temperatures. Knowing your building's risk will help you and your roofing contractor select roofing materials designed to handle the weather in all seasons.
Perform bi-annual routine roof maintenance
While roofs are known for lasting 15- to 20-years or more (even longer for metal roofs), they require routine maintenance. Things like cleaning the roof of built-up debris, or algae and moss to replacing damaged shingles or tiles and resealing penetrations made by ventilation equipment, electrical work, roof-mounted HVAC units, etc., are all recommended by roofing products manufacturers. You also need to inspect gutters and downspouts as well.
While DIY inspections are better than none at all, we recommend hiring a professional roofing contractor to perform at least one inspection per year to ensure your roof's status is backed by a professional's opinion. If the building is new-to-you, your professional inspection uncovers latent repair items that require repair before the next storm season.
Select impact resistant appliances, skylights, etc.
If your HVAC system has roof-mounted components, make sure to protect them from the elements. Similarly, your skylights, ventilation penetrations, and solar panels should be selected especially for their impact-resistant designs.
Catch And Repair Hail Damage ASAP
If you suspect your commercial roof was damaged in a recent hailstorm, time is of the essence. The expediency and success of your commercial insurance claim depend on swift and accurate attention to their claims processing instructions.
Read, Commercial Roof Insurance Claim: Everything You Need to Know, to learn more about processing claims for roof repairs or replacement.
Inspect the roof for hail damage
Once the storm is over, your roof needs to be inspected. Hiring a licensed roofing contractor is a wise move because, in addition to utilizing the best safety practices, the roofers may catch smaller areas of damage you or your employees could miss.
Look for dents, divots, cracks, or damaged shingles, tiles, flashing, ventilation penetrations, skylights, the gutters and downspouts, and so on. Shingles may not look dented but you'll notice areas where the grainy, sand-like coating is missing – typically in roundish stamps that replicate the shape of the hailstones.
Take pictures of everything you notice or suspect may be damaged as they will come in handy when processing your insurance claim.
Cover any apparent holes or areas where roofing materials could leak
If you suspect the damage was severe enough to cause a leak, use a waterproof tarp or heavy-duty plastic to cover the exposed area. Again, most licensed roofing contractors offer emergency repair services, addressing immediate issues until more formal repair or replacement takes place.
Contact your insurance company before pursuing this step on your own. You may find they prefer professional repair services over DIY repairs to protect your commercial roof and structure from further damage.
Work With A Reputable Roofing Contractor
While online searches and review sites are helpful, you should ask local business owners, family members, and friends who they recommend for superior roof repairs. Word of mouth referrals is the bread and butter of reputable roofing contractors.
In fact, Pacific Coast Roofing obtains 90% of our business from loyal, satisfied clients who refer us to their friends and colleagues. Contact us, (510) 912-5454, to schedule an inspection of your hail damaged roof. The team at Pacific Coast Roofing provides high-quality, customer-centered commercial roofing repairs and replacement, and offer in-house financing whenever we can.