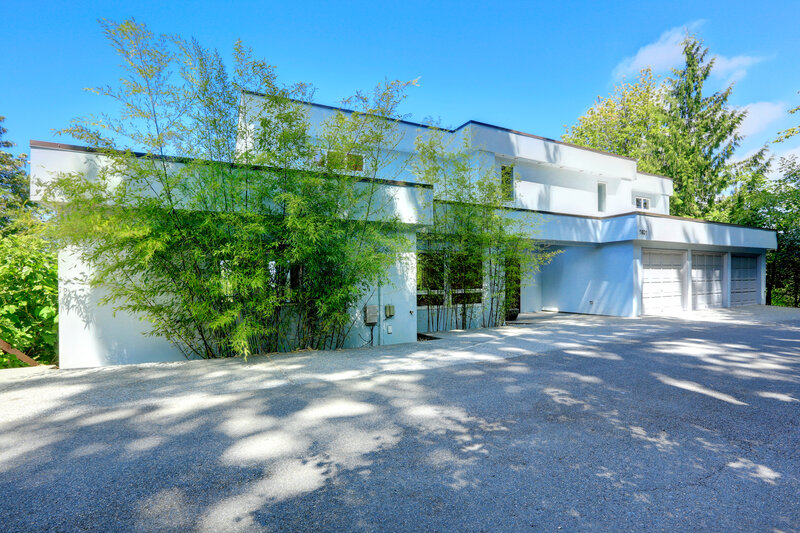 Flat roofing systems are common in many historic downtowns, as well as mid-century and modern home designs. There are both good and bad elements to a flat roofing design. The main focus for any flat roof design, build, or replacement is waterproofing.  
Without the right roofing materials, your flat roof is more susceptible to water damage and can compromise your building's structural integrity. 
Flat Roofs Aren't Actually Flat
To be clear, flat roofs are not 100% flat. They have a very minimal slope (between 1/4- and 1/2-inch per foot) to accommodate water runoff. It is that minimal slope, as opposed to a steeper-pitched roof, that makes materials selection so important. 
There are three different categories of flat roofs: 
Membrane or single-ply. 

A single layer of waterproofing membrane (typically an ethylene propylene diene monomer (EPDM) rubber layer) is laid and adhered to the top of the insulation board. This may be held down using a ballast, masonry pavers, or river rocks.  

 

Built-up roofing (BUR).

 Prior to bitumen and membrane roofing innovations, BUR roofing systems were the most common flat roofs on the market. This technique uses multiple layers (insulation board layers, multiple layers of tar and asphalt alternated with roofing felt, and rocks or gravel.

 

Modified bitumen roofing

. As you can imagine, built-up roofs are heavy and require added structural support. Modified bitumen roofing systems were the answer to that, using a flexible, asphalt-based coating that has a mineral coat on the top. It achieves the waterproofing of BUR, without the smell, heat, mess, and weight. Sheets of modified bitumen roofing are rolled out in three-foot-wide sheets, layered, and adhered to the back using a "torch-down" method.

 
As you can imagine, the quality of your flat roof design and performance is 100% related to the quality of the materials you select. Always work with a licensed, Bay Area roofing professional and invest in products with solid performance records and warranty agreements. 
The Pros Of A Flat Roof
Here are some of the pros of having a flat roof design. 
Cost-effective
Because there are fewer structural materials involved, and labor time tends to be lower, flat roofing systems are usually more cost-effective to install. This makes them more affordable as a first-time cost, but we'll talk more about lifetime costs below. 
A flat roof is easy to work on and repair
Everyone from solar installers and HVAC techs to roofing contractors appreciate working on flat roofs because their lower pitch (mild slope) means a safer working environment and easier maneuvering. 
Accommodate a green roof design 
Flat roofs are the best option for green roof designs, which incorporate grass, native flowers, etc. to insulate your home, minimize energy costs, and are a major boon to the environment. Read our post, Debunking 6 Myths About Green Roofs…, to learn more. 
Perfect foundation for skylights and solar tubes
Without the expanse of attic space between a pitched roof and the living spaces below, flat roof designs are ideal for skylight and solar tube installations. The inclusion of these features allows lots of natural sunlight (not to mention sky views), which almost eliminates the need for daytime lighting.  
That said, make sure your roofer is consulted whenever you install these types of features or any new penetration to ensure the penetrations remain watertight and protect your roofing system's integrity. 
The Cons Of A Flat Roof
Of course, there are always two sides to the coin. Some of the cons of having a flat roof system are: 
Shorter lifespans (higher lifetime costs)
Despite flat roofing material innovations over the past decades, flat roofs still have shorter lifespans than their pitched counterparts. This makes them more expensive over the course of the building's lifetime. Owners will find themselves in more frequent need of repairs and roof replacement than they would with a sloped roof. 
A flat roof requires more maintenance
As we mentioned, flat roof systems require more maintenance, mostly in the form of waterproofing. This can get more expensive for roofs with a larger footprint. We're always fans of maintenance plans, but we feel it is an especially good idea for flat roof owners to join their preferred roofing contractor's maintenance plans to optimize roofing repair and replacement savings. 
Reduced drainage (higher water damage risk)
A reduced slope means slower water drainage off the roof. That results in longer expanses of time that your roof is exposed to standing water. As a result, home and business owners with flat roofs are more likely to experience leak issues, which can lead to water damage if they aren't resolved quickly. 
Also, be aware that any penetrations in the roof (electrical, plumbing, chimney, vents, skylights, etc.) are ultra-vulnerable to leakage. These areas must be adequately flashed and the roof should be inspected at least once per year to minimize leak risks. 
Are you interested in learning more about the good and bad of flat roofs? Or, are you needing expert repair, renovation, or replacement of your existing flat roofing system? Contact Pacific Coast Roofing and benefit from multiple decades of licensed, Bay Area roofing expertise.