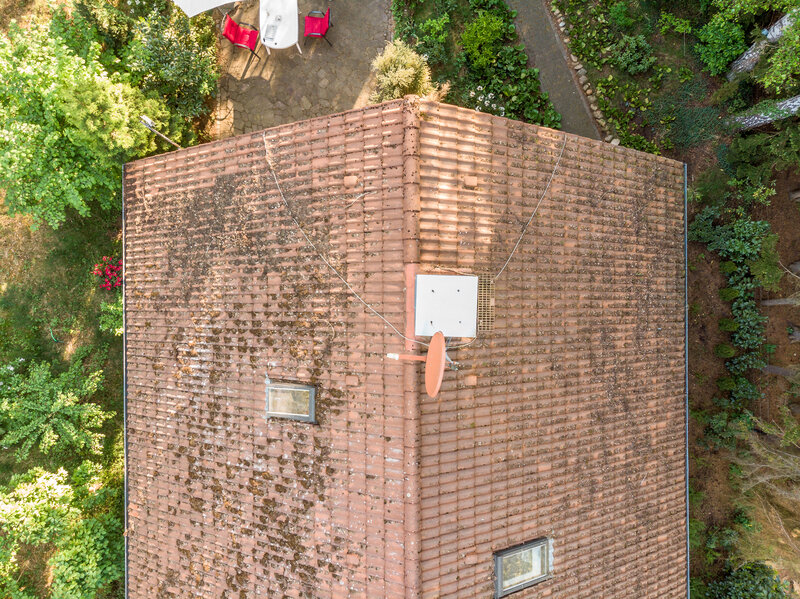 While it's true a few worn shingles won't make or break a home sale, there's no doubt replacing an outdated roof increases home value. Additionally, your home will sell faster and for a higher price if prospective homeowners know the roof is five years old or less.
If your roof is 15 years old or more and you plan to sell your home in the near future, it's time to connect with local licensed roofing contractors to determine who's the best fit for a new roof replacement.
6 Reasons A New Roof Can Improve Your Home Value
According to Remodeling Magainze 2021 home improvement reports, the national average cost for a new roof replacement with asphalt shingles is $28,256, and has a return of investment of just over 60%, demonstrating how valuable a new roof is to prospective homebuyers. 
If you're on the fence about whether or not to replace your roof when selling your home, consider six proven ways it will increase home value.
Instant curb appeal
A new roof is visible from the street and contributes to your home's curb appeal. We are still in the midst of a seller's market. And while some people translate that as the ability to sell a home quickly without making desirable improvements, real estate data shows that homes with the most curb appeal sell faster and for a higher price. In this market, an attractive house starts bidding wars because buyers fear they'll lose their chance if they don't bid high enough ASAP.
Real estate ads promote new roofs
Have you ever noticed that real estate ads are quick to indicate when a major home system is on the newer side? Real estate agents know that most buyers aren't interested in a fixer-upper requiring more than the most cosmetic of improvements, especially when it comes to replacing expensive home systems such as the roof or HVAC system. When buyers see that your roof is brand new, they know they won't have to invest in a new roof for at least another 15 years or more, and they also know their house benefits from increased energy efficiency.
Increased energy efficiency
Improvements in roofing materials technology mean roofs are more energy-efficient than ever before. According to the National Association of Realtors (NAR), "Energy-efficient home design increases with popularity each year as homeowners look for ways to help lower rising energy costs." The roof is a significant player in whole-home energy efficiency because the right roofing materials prevent solar heat gain that drives escalated cooling costs.
Choosing roofing materials that reflect the sun means your real estate agent can advertise the new roof and increase energy efficiency, which translates to lower lifetime utility spending.
Reduced repair and maintenance costs
Home value is measured in multiple ways, and one of those is the lifetime costs associated with maintaining a home. For example, while a 10-year-old roof may have a projected lifespan of five to 10 years more, it's a guarantee that homeowners will spend more on roof repairs and maintenance for that next five to 10 years than their neighbor with a new roof.
Forbes Advisor's home improvement section cites that "…roof repair costs can run anywhere from $150 to $400 for minor repairs and up to $7,000 for major repairs. The current national average of roof repairs in America is $950." The older your roof, the more likely repairs will land on the more expensive end of that spectrum. Prospective buyers know that and are likely to offer less or expect an inspection to determine the roof's future repair needs before paying full price or offering more to buy the house.
Breeze through the home inspection
As long-standing roofing contractors in the Bay Area, we've forged loyal relationships with the region's best home inspection firms. As a result, we know that by and large, issues with the roof or parts of the roofing system are some of the most common red flag citations on their inspection reports. 
Your new roof means you'll breeze through some of the most common "sticky points" in the pre-sale home inspection, making for a more stress-free and efficient close of escrow.
Extended warranty
Your new roof comes with a new warranty, and that's attractive to potential buyers. You'll be able to provide them with the roof replacement paperwork, including the warranty information, and they'll have the peace of mind that their new roof is warrantied for an average of 20 years. Some roofing materials, such as metal roofing systems, are warrantied for 40 years or more!
Let Us Increase Your Home Value
The team at Pacific Coast Roofing has been replacing outdated roofs and increasing Bay Area home values for more than 20 years. There's a reason why we've consistently maintained an A+ rating with the Better Business Bureau and why we're fortunate to derive the majority of our business through word of mouth. 
Are you planning to sell your Bay Area home? Contact us to schedule a consultation, at (510) 912-5454, and learn how we can help your home sell faster and for more money.