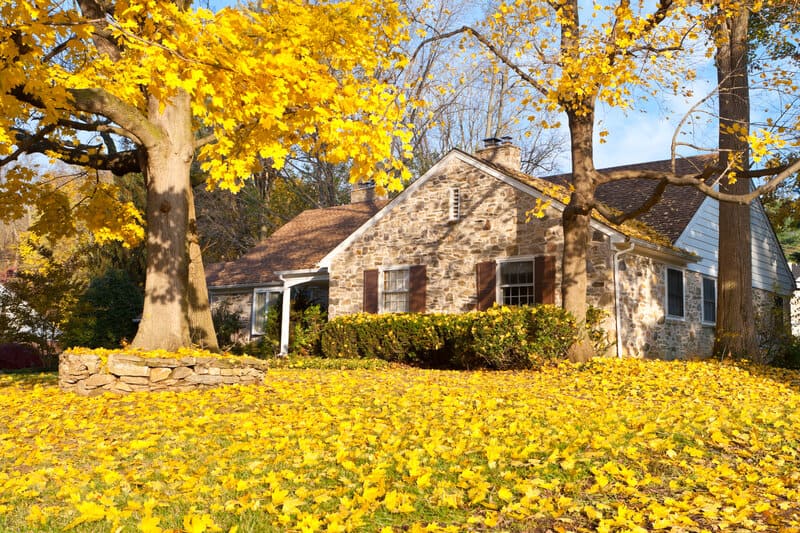 The end of summer and the beginning of fall is an important time for your roof. This is the season when proactive home and building owners contact local professionals to perform key fall roof maintenance in preparation for the winter storm season. 
In the market to find a local roofing contractor you can trust? Read Questions to Ask When Choosing Your Roofing Contractor. 
5 Fall Roof Maintenance To-Do's
While some of these items make great DIY chores if that's your thing, we recommend enlisting the help of a licensed roofing material to tackle the tricker items. That's particularly true if you own a multi-story building since safety is always the first priority! 
Trim the trees around your home
The first step actually begins by contacting a local tree professional. Overgrown trees and branches pose one of the largest threats to roofing systems. Fallen branches cause unnecessary damage, and accumulated leaves and twigs clog gutters and cause moisture to accumulate on the roof, which leads to leak issues. 
Read our post, Maintain Your Trees to Protect Your Roof, to learn more about how to create a more symbiotic relationship between the roof and surrounding treescapes. 
Clean the gutters and inspect drainage systems
After the spring, summer, and early fall season your gutters are likely to have an accumulation of debris, If this isn't cleaned out, the first rain will pose a risk to the roof. Once gutters are clogged, the roof can't drain as it was designed to do. This increases your chances of developing a roof leak and makes it harder to enter or leave the home without having to dodge an overflow from the gutters.  
We also recommend installing a roofing drip edge if you don't have one or is outdated. These are an important part of your roof's drainage system, directly water runoff from the building's fascia and into the gutter system. 
Are your gutters looking a little worse for wear? If your gutters are 15 years old or older, there's a good chance it is time to replace them. Visit Rain Gutters: Choosing the Right Style, Color, and Price for Your Home to guide your decision-making process. 
Schedule a roof inspection
Annual roof inspections are a smart way to catch small, "red flag" roofing items before they turn into bigger problems or costly repairs. Fall is a great time to do it to make sure your roof is in shape before we experience the peak of the winter season. During your roof inspection, roofing pros will: 
Repair/replace damaged shingles or roof parts

 

Catch unseen leaks or moisture issues before they cause more damage

 

Offer discounts to regular customers in honor of their loyalty

 

Ensure drainage systems are functioning to full capacity

 
If you haven't had your roof inspected by professionals in the past year or two, now is a good time to take a proactive step towards saving thousands on unnecessary repair costs. 
Replace missing or damaged shingles 
Take action if you notice any signs of missing, cracked, chipped, or damaged shingles. Failure to do so puts you at risk for leaks. Similarly, shingles that have been damaged or missing for some time can negatively impact a future insurance claim.  
Routine maintenance is one of the carriers' requirements. If the inspectors see that shingles have been damaged or missing for some time, they'll note that in their report, which can reduce or even cancel your repair/replacement reimbursement. 
Make sure your attic is in good shape
Most people are unaware of the important relationship between the attic and the roof. We say that "roofs were meant to breathe," and those breaths take place via adequate attic ventilation. Excessive heat and moisture build-up in the attic cause all kinds of roof issues, from rot in the sheathing and rafters to excess condensation and mold/mildew or roof algae issues.  
Read Your Guide to Improving Attic Ventilation to learn more about how your attic ventilation and insulation help to protect your roofing system. 
Would you like professional assistance getting your roof into shape before winter hits? Schedule an inspection with Pacific Coast Roofing. Our family-owned and operated roofing company has served Bay Area home and business owners for 25 years and counting.